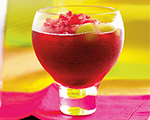 Prep: 5 hr 20 min
Cook Time: –
Total: 5 hr 20 min
Serving: 12 Servings
This drink is not only delicious, but its vibrant color gives it an impressive presentation as well.
Ingredients
3-1/2 cups pomegranate juice
1-1/2 cups plain or raspberry-flavored light rum
1 cup cassis or cranberry liqueur
1/3 cup fresh lime juice
Ice cubes
Pomegranate seeds to garnish
Directions
Place the pomegranate juice, rum, cassis, and lime juice in a large pitcher and stir to combine.
Place the pomegranate juice into the refrigerator and chill for at least 5 hours.
Place 1-1/2 cups of the chilled pomegranate juice in a blender with 1 cup of ice, and blend until the mixture reaches a slushy consistency. Transfer the mixture into daiquiri glasses and garnish with Pomegranate seeds.
Continue making daiquiris with the remaining ingredients in the same manner described above.