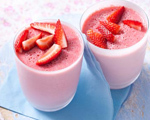 Prep: 2 hr 15 min
Cook Time: 5 min
Total: 2 hr 20 min
Serving: 4 Servings
This low-calorie, yogurt-based dessert is made with fresh strawberries and pomegranate juice. A wonderfully light and airy warm-weather treat for the entire family to enjoy.
Ingredients
10 ounces fresh or thawed frozen strawberries (about 2 cups) plus strawberries to garnish
1/8 teaspoon salt
1 envelope unflavored gelatin
1/2 cup pomegranate juice
1 7-ounce container regular or 2% Greek yogurt
Directions
Place 1/4 cup of the pomegranate juice into a bowl and then add the gelatin. Let the mixture stand for about 4 minutes until the gelatin softens.
In the meantime, place the strawberries and the salt into a food processor and process until smooth.
Place the remaining pomegranate juice and sugar into a saucepan over medium heat and bring the mixture to a simmer. Stir frequently until the sugar has dissolved and then reduce the heat to low and sit in the gelatin mixture. Cook for 1 minute and then transfer to the food processor with the strawberry purée. Process the mixture for about 10 seconds to combine and then pour into dessert bowls.
Cover the desserts and then place into the refrigerator for 2 hours to set; serve garnished with some fresh strawberry slices.