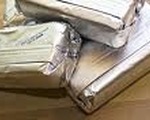 Prep: 25 min
Cook Time: 20 min
Total: 45 min
Serving: 18
A traditional favorite, Polish Kolacys can be filled with your favorite fruit preserves.
Ingredients
1/2 pound margarine
1, 8 ounce package cream cheese, softened
2 tablespoons sugar
2 cups flour
2 teaspoons baking powder
1/4 teaspoon salt
3/4 cup preserves (strawberry, apricot, prune)
confectioners' sugar for sprinkling
Directions
Thoroughly blend margarine, cream cheese and sugar. Add flour, baking powder and salt. Mix well. Knead to form stiff dough. Roll to 1/4 inch thickness on well floured board. Cut into 2 inch squares. Place 1/2 teaspoon preserves in center. Press opposite corners together in center.
Place on ungreased baking sheet. Bake at 350 degrees F for 15-20 minutes. Immediately sprinkle with confectioners' sugar when done baking.