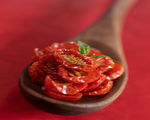 Prep: 20 min
Cook Time: 45 min
Total: 1 hr 5 min
Serving: 6
This recipe calls for pre-cooked polenta that you can buy in a 24 ounce tube or chub package found in the refrigerator section or dry goods section of the supermarket. It comes in a variety of flavors from plain to basil garlic.
Ingredients
1 24 ounce tube precooked polenta
Olive oil
4 sun-dried tomato halves (not oil packed)
½ ounce dried wild mushrooms
1 teaspoon olive oil (use garlic oil if available)
1 (8 ounce) onion, chopped (about 1 ¼ cup)
2 garlic cloves, minced
½ cup dry red wine
1 tablespoon fresh thyme leaves or 1 teaspoon dried thyme
1 tablespoon dried oregano
1 pound brown mushrooms or a mix of wild mushrooms, sliced
1 (28 ounce) can Italian peeled tomatoes, undrained, chopped
Pinch sugar
Pinch or two salt
Black pepper to taste
2 tablespoons grated Romano or Parmesan cheese
Chopped fresh parsley
Directions
To prepare pre-cooked polenta:
Remove polenta from wrapper, draining if necessary. Pat dry.
Slice the polenta chub into 24 ( ¼ inch) slices, or larger if preferred.
Lightly brush the slices with olive oil.
Try garlic-infused olive oil for a richer taste. Simply heat one cup of olive oil and 3 to 4 garlic cloves on low heat for 5 to 10 minutes, set aside and let steep, keep the extra bottled in the refrigerator.
Use on polenta, fresh bread, or in any dish needing a garlic kick.
To Grill:
Arrange slices on lightly oiled grill or grill pan over medium-low heat.
Cook until underside is golden, about 5 minutes. Flip and cook for another 5 minutes.
A grill pan may require longer cooking.
To Roast:
Preheat oven to 500 degrees F.
Arrange slices on a heavy baking sheet and season with just a pinch of salt.
Roast in the oven for 15 to 20 minutes or until golden.
Pour hot water over sun-dried tomatoes and dried mushrooms in a small bowl.
Set aside and let steep for at least 15 minutes. Drain reconstituted tomatoes and mushrooms with a strainer and reserve the tomato-mushroom liquid. Squeeze excess liquid from tomatoes and mushrooms then coarsely chop and set aside.
Measure out ¼ cup of reserved liquid and set aside.
Heat oil on medium in a medium-sized nonstick saucepan.
Cook onion and garlic, stirring frequently, until onion is soft, about 5 minutes.
Pour the ¼ cup tomato-mushroom liquid into saucepan with onions and garlic.
Add red wine, thyme, and oregano.
Turn heat to medium-high and bring mixture to a boil for 1 minute.
Add fresh sliced mushrooms and cook, stirring occasionally, for 2 to 3 minutes.
Add canned tomatoes and their juices, chopped sun-dried tomatoes and mushrooms, sugar, salt and pepper.
Partially cover and lower heat to medium-low. Simmer, stirring occasionally, until mixture thickens, about 15 minutes.
Spoon over polenta and sprinkle with cheese and parsley.