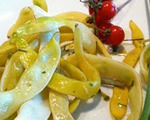 Prep: 5 min
Cook Time: 15 min
Total: 20 min
Serving: 2 Servings
Pole beans come in dark green, light yellow or even purple colors. Serve them as a colorful side to roast poultry, beef or pork dishes.
Ingredients
4 cups pole beans
1 tablespoon butter
1 clove garlic, minced
1 tablespoon lemon grass, trimmed and chopped
Sea salt and freshly ground pepper
Directions
Trim the ends off of the beans and cook in a steamer for about 15 minutes or according to your steamer manual's suggested time.
Place the butter in a sauté pan over medium-high heat. Once melted, add the garlic and cook, stirring frequently, for 1-1/2 minutes; reduce the heat to low. Stir the lemon grass into the mixture and cook for an additional 2 minutes.
Drizzle the butter mixture over the steamed pole beans, sprinkle with a few pinches of salt and pepper and then serve immediately.