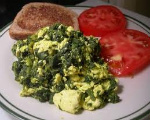 Prep: 10 min
Cook Time: 20 min
Total: 30 min
Serving: 4-6 servings
Ingredients
Bunch of poke
6 tablespoons bacon drippings
1 onion, finely chopped
5 eggs
salt and pepper to taste
Directions
Wash the poke thoroughly, place in a pot and cover with water. Boil for 5 minutes then drain. Replace with boiling water and boil for 5 more minutes. Drain.
Place the poke in a heavy skillet with the bacon drippings. Add the onion. Cover and simmer until onions are tender.
Beat the eggs until foamy, mix in with the poke mixture. Add salt and pepper to taste.