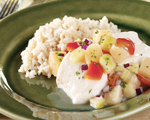 Prep: 10 min
Cook Time: 12 min
Total: 22 min
Serving: 4 Servings
To poach means to cook food in a hot liquid, like wine, water or broth, that is kept just below the boiling point. This form of cooking creates a moist and delicious result.
Ingredients
1 can (about 15 ounces) pineapple chunks in juice, drained with juiced reserved
1 seedless cucumber , peeled and diced (about 1 2/3 cups)
1 medium red pepper , chopped (about 3/4 cup)
2 tablespoon chopped red onion
1 teaspoon white wine vinegar
1 teaspoon hot pepper sauce (optional)
1-3/4 cup Chicken Broth
Chicken Stock
1/4 cup white wine
4 halibut fillets (about 1 1/2 pounds)
Directions
Place the drained pineapple into bowl along with the cucumber, red pepper, red onion, vinegar and hot pepper sauce. Toss to combine.
Place the chicken broth, wine and reserved pineapple juice into a large sauté pan over medium-high heat and bring to a boil. Put the fish into the sauté pan; reduce the heat to low and cook, covered, for 12 minutes.
Transfer the fish to plates, top with the chunky pineapple salsa and serve immediately.