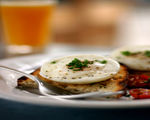 Prep: 10 min
Cook Time: 23 min
Total: 33 min
Serving: 8
Crostini means little toasts in Italian. In this dish, browned turkey sausage meets toothsome egg and crunchy little toasts to provide a balanced crostini meal.
Ingredients
1 teaspoon olive oil
8 ounces turkey sausage, cut diagonally into ½ inch slices
1 (10 ounce) onion, thinly sliced (about 2 cups)
2 garlic cloves, minced
1 pound red bell peppers, seeded and cut into ¼ inch slices (about 2 cups)
1 (15 ounce) can diced tomatoes, drained
1 teaspoon dried oregano
Pinch salt
Black pepper, to taste
8 poached eggs (See Poaching Tips)
8 thin slices whole-wheat sourdough bread, toasted
Directions
Heat oil in a large nonstick skillet over medium-high heat.
Add turkey sausage and cook, stirring occasionally, until lightly browned, about 2 to 3 minutes.
Using a slotted spoon, transfer sausage to a plate layered with paper towels.
Add the onion, garlic, and bell peppers to the same pan and cook, stirring frequently, until softened, about 8 to 10 minutes.
Add sausage, tomatoes and oregano and cook until most of the liquid has evaporated, about 5 minutes. Season with salt and pepper to taste and keep warm by covering with a lid or foil.
This recipe makes about 5 cups.
Place toasts on a large serving plate and evenly top each with sausage mixture and a poached egg.
Bring three inches of water and a tablespoon of white vinegar to a simmer in a large saucepan. The vinegar is optional but helps the egg whites coagulate so you get "neatly" poached eggs.
Break an egg into a ramekin or small cup.
Gently slide the egg into the saucepan.
Repeat with additional eggs but avoid overcrowding the pan.
Cook until the white and yolk are firm, about 5 minutes.
Using a slotted spoon, lift one egg at a time from the water and drain on paper towels before serving.
Poached eggs can be cooked in advance and kept in a bowl of cold water.
To reheat for serving, slide them into a saucepan of boiling water for a few seconds, remove and drain on paper towels.