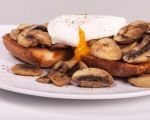 Prep: 10 min
Cook Time: 10 min
Total: 20 min
Serving: Serves 4 people
For a delicious breakfast, Poached Eggs with Mushrooms & Garlic is a tasty treat. Use fresh eggs and serve over toasted English muffins with a side of bacon and fresh fruit.
Ingredients
4 eggs
1/4 pound of mushrooms, chopped
2 tablespoons vinegar
1 garlic clove, minced
1-1/2 tablespoons butter
4 English muffins, toasted
Salt & pepper to taste
Directions
Add 1-to-1-1/2 inches of water into a frying pan. Add the vinegar and bring to a boil. Reduce the heat just enough to keep the water bubbly.
Carefully crack the first egg into a shallow cup, then tip it into the water. Add the remaining eggs, one at a time. Cook the eggs very gently for about 2 minutes without touching them. Carefully spoon a bit of the cooking water over the middle of each egg to help cook the yolk. The eggs are cooked when they can be loosened from the bottom of the pan. Use a metal, slotted spatula to lift the eggs out of the water. Drain the eggs well an set them aside on a warm plate.
Add the butter to a medium-sized saute pan over medium-high heat. Add the mushrooms to the pan. Cook for a minute or so before adding the garlic and salt & pepper. Stir to incorporate the seasonings, mushrooms and garlic. Cook for a few minutes, just until the mushrooms begin to soften.
Toast your English muffins and place them split, on a plate with the inside of the muffin facing up. Carefully place one egg on top of the bottom half of each muffin. Spoon the mushroom and garlic mixture around the sides of the muffin and top of the egg, taking care not to disturb the yolk. Gently place the top half of the muffin off the side of the bottom half muffin.