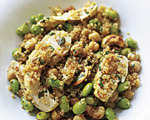 Prep: 1 hr 10 min
Cook Time: 15 min
Total: 1 hr 25 min
Serving: 4 Servings
Juicy strips of poached chicken are tossed with quinoa, edamame and chickpeas in this flavorful salad. Serve with a bottle of Verdicchio or an American Riesling.
Ingredients
1 cup uncooked quinoa
3 skinless, boneless chicken breasts
1-3/4 ounces vegetable stock
1 cup cooked chickpeas, rinsed and drained
1/4 cup dried goji berries
1 apple, cored and diced
1/2 cup whole almonds, roughly chopped
3 ounces edamame beans
1-1/2 teaspoons ground cumin
3/4 cup fresh orange juice
1/2 teaspoon salt
3 tablespoons olive oil
Directions
Place the vegetable broth into a saucepan and bring to a boil. Add the chicken to the pan and then simmer for 15 minutes. Cut into slices once cool enough to handle.
In the meantime, cook the quinoa according to package directions, fluff with a fork and then set aside to cool slightly.
Put the cumin, orange juice, salt and olive oil into a large salad bowl and whisk vigorously to blend. Place the cooked chicken, quinoa, chickpeas, edamame, goji berries, apple and almonds into the bowl and toss the salad to combine. Cover the mixture and place in the refrigerator for 1 hour to chill prior to serving.