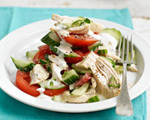 Prep: 10 min
Cook Time: 10 min
Total: 20 min
Serving: 4 Servings
Poaching chicken makes it succulent and tender. The perfect addition to this lemony honey and yogurt salad.
Ingredients
Zest from 1 lemon, finely shredded
Juice from 1 lemon
1 pound skinless, boneless chicken breast halves, cut in 2-inch pieces
1 cup chicken broth
4 cloves garlic, minced
1 teaspoon dried oregano
1 seedless cucumber, sliced
4 5-ounce container Greek-style honey-flavored yogurt
4 tomatoes, sliced
Salt and freshly ground pepper
Fresh oregano (to garnish)
Directions
Place the lemon peel, lemon juice, chicken, broth, garlic and oregano into a medium-sized saucepan and bring to a simmer over medium-heat.
Cook the mixture for 10 minutes, covered, until the chicken is cooked through. Drain the liquid, reserving 1/3 cup, and set aside.
Place the cucumber and the tomato into a salad bowl along with the chicken mixture. Toss to combine.
Put the yogurt in a small bowl and add the reserved cooking liquid and a few pinches of salt and pepper. Whisk together to combine, and then drizzle over the chicken mixture. Garnish with some fresh oregano and serve.