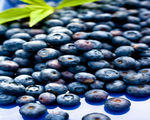 Prep: 5 min
Cook Time: 30 min
Total: 35 min
Serving: 8
A refreshing drink that is uniquely flavored with berries, plums and bay leaves.
Ingredients
5 cups water
1 cup blueberries, fresh (or thawed, if frozen)
3 ripe plums, pitted, sliced
6 bay leaves
1/4 cup sugar
8 cups cold club soda or sparkling wine
Directions
Bring water to a boil in a medium saucepan over high heat.
Add fruit, bay leaves and sugar. Cover and boil, stirring until juice is reduced to about 3 cups and plums are tender.
Strain the mixture through a fine-meshed seive, pressing lightly with a spatula to extract all the juice. Remove the bay leaves but don't discard.
Return juice to the pan and add the reserved bay leaves and simmer over medium heat until reduced to about 2 cups.
Discard bay leaves and let syrup cool.
To serve, add 1/4 cup syrup to a tall glass and add 1 cup club soda or sparkling wine, stirring to combine.