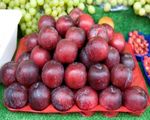 Prep: 15 min
Cook Time: 50 min
Total: 1 hr 5 min
Serving: 18
This dark purple delight hits your tongue with an immediate sweet-tartness, then warms your mouth with the mild heat of ginger and jalapen
Ingredients
2 pounds ripe plums, pitted, chopped (about 4 cups)
1 (6 ounce) apple, chopped fine (about 1 cup)
1 (6 ounce) onion, chopped fine (about 1 cup)
1 large jalapeno, seeded, minced
½ cup packed brown sugar
1 ½ cups cider vinegar
¼ cup finely chopped crystallized ginger
1 tablespoon dark mustard seeds
1 teaspoon salt
2 teaspoons cinnamon
2 teaspoons ground coriander
Directions
Combine all ingredients in a large pot and bring to a boil over medium-high heat, stirring occasionally.
Reduce the heat to medium and simmer for 45 minutes, stirring often.
Chutney is done when it's thick enough to mound on a spoon.
Remove from heat and let cool. Serve at room temperature.