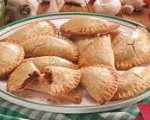 Prep: 30 min
Cook Time: 15 min
Total: 45 min
Serving: 3 dozen
Pizza turnovers are great for children or as party appetizers.
Ingredients
1/3 cup chopped mushrooms
1/4 cup chopped green pepper
1/4 cup chopped onion
2 tablespoons butter
1 (6 ounce) can tomato paste
1/4 cup water
1 teaspoon oregano leaves
1/2 teaspoon salt
1/4 teaspoon garlic powder
1 cup shredded mozzarella cheese
Pastry for double crust 9 inch pie
Directions
Preheat oven to 450 degrees Fahrenheit.
Saute the mushrooms, green pepper and onions in the butter. Stir in the tomato paste, water and seasonings. Simmer for 15 minutes.
Mix in the cheese.
On a lightly floured board roll the dough out to 1/8 inch thickness. Cut into 3 dozen 3 1/2 inch circles.
Scoop about 1 teaspoon worth of the saute mixture into the center of each circle. Fold in half and use a fork to press the edges together.
Bake for 10-15 minutes or until lightly browned.