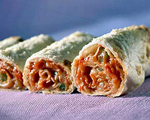 Prep: 15 min
Cook Time: 13 min
Total: 28 min
Serving: 24 Servings
A great casual appetizer or an afterschool snack for the kids, these tortilla roll-ups are filling and delicious.
Ingredients
3/4 cup chopped onion
1/2 cup chopped green sweet pepper
1 tablespoon butter
1/2 teaspoon dried Italian seasoning, crushed
1/4 teaspoon crushed red pepper
6 7-inch flour tortillas
1 8-ounce can pizza sauce
1 8-ounce package shredded 4-cheese pizza cheese (2 cups)
1 tablespoon cooking oil
2 tablespoons grated Parmesan cheese
Directions
Place the butter in a small sauté pan over medium heat and then add the onion and sweet pepper. Sauté the vegetables for 5 minutes, stirring occasionally, and then add the Italian seasoning and red pepper. Stir to combine.
Preheat the oven to 400 degrees and line a baking sheet with foil.
Place the tortillas on a flat surface and spread each with 1 tablespoon of pizza sauce, up to 1/2-inch away from the edge. Reserve any remaining sauce and place in a dipping bowl. Spoon the onion mixture onto the sauce and then top with the pizza cheese.
Tightly roll up the tortillas and place on the prepared baking sheet, seam side down. Lightly brush each tortilla roll-up with some cooking oil and sprinkle with the Parmesan cheese.
Bake the tortilla roll-ups for 8 minutes. Serve warm with the remaining pizza sauce.