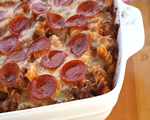 Prep: –
Cook Time: –
Total: –
Serving: Serves 6
Where would family cooks be without casseroles? They are satisfying, easy to make, and frugal all at the same time. When I have more time, I also make breadsticks and sauté whole steamed green beans in butter and garlic, then season the beans with salt and pepper. Since the casseroles are so filling, serve fresh fruit as a great after dinner treat.
Ingredients
1 pound rotelle pasta
2 cans pizza sauce
1 package stick pepperoni (unsliced)
2 (12 ounce) packages shredded mozzarella cheese
1 small can mushrooms
Directions
Cook rotelle pasta according to package directions. Drain. Dice the sticks of pepperoni. Mix mushrooms and pepperoni into the pasta. In large casserole dish or 13" x 19" pan, place a layer of pizza sauce, a layer of pasta mixture, and a layer of cheese. Repeat until all ingredients are used up. Bake at 375°F for 20 minutes or until bubbly.