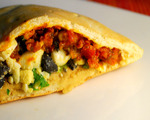 Prep: 3 hr 25 min
Cook Time: –
Total: 3 hr 25 min
Serving: 6
Pita Bread with Mediterranean Mix is a delicious change from the ordinary sandwich.
Ingredients
1 pound ground beef, cooked and drained
1 cucumber, peeled and seeded
1 medium onion, chopped
1/2 jar green olives, chopped
1/2 jar ripe olives, chopped
1 stalk celery, chopped
2 medium tomatoes, chopped
1/2 pound Cheddar cheese, shredded
1/2 pound Swiss cheese, shredded
1 clove garlic, crushed
1 slice bread, cubed
2 slices hard salami, chopped
pepper to taste
3 tablespoons olive oil
pita bread
Directions
Combine all ingredients except pita bread in large bowl, mixing to coat with oil. Chill in refrigerator for 3 hours.
Cut pita breads into halves with scissors. Pull open to form pockets. Fill with chilled mixture.