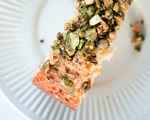 Prep: 10 min
Cook Time: 35 min
Total: 45 min
Serving: Makes 1, 8-inch square cake
This Pistachio Breakfast cake, made with orange marmalade and cardamom, doesn't have to be reserved only for breakfast although it goes exceptionally well with a steaming cup of coffee or tea.
Ingredients
1-1/2 cups flour
1/2 cup cornmeal
3/4 cup sugar
2 teaspoons baking powder
1/4 teaspoon baking soda
1 teaspoon salt
1/2 teaspoon cardamom
1/2 cup orange juice
1/2 cup safflower oil (or other neutral oil)
2 eggs
1/4 cup orange marmalade
4 tablespoons shelled pistachios, chopped
Directions
Preheat your oven to 350 degrees Fahrenheit, line an 8-inch square cake pan with parchment paper and then grease lightly with butter or oil.
Place the flour, cornmeal, sugar, baking powder, baking soda, salt and cardamom into a bowl and mix well to combine.
Place the oil, eggs, marmalade and sugar into another bowl, and whisk together until well blended. Slowly add the orange juice to the mixture and continue to whisk until thoroughly incorporated.
Sprinkle the dry mixture into the wet mixture, fold to combine, and then transfer the batter to the prepared pan. Evenly top with the shelled pistachios and then place in the oven for 35 minutes. The cake is done with a toothpick inserted into the middle of the cake tests clean.