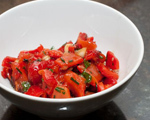 Prep: 35 min
Cook Time: –
Total: 35 min
Serving: 4 Servings
Piquillo peppers, which translates to 'little beak' in English, are a variety of chili grown in Northern Spain. They have a distinct sweet and spicy flavor that resembles red bell peppers.
Ingredients
8 jarred piquillo peppers, drained, rinsed and cut into 1/2-inch-thick strips
3 tablespoons capers, drained and coarsely chopped
3 tablespoons finely chopped flat-leaf parsley leaves
1 shallot, minced
1-1/2 tablespoons sherry vinegar
1/2 teaspoon ground cumin
pinch of cayenne
4 tablespoons extra-virgin olive oil
Directions
Place the piquillo pepper, capers, parsley, shallot, sherry vinegar, ground cumin, cayenne and olive oil in a bowl and stir well to combine. Add a few pinches of salt and pepper to taste and then cover and chill the salsa for 30 minutes before serving.