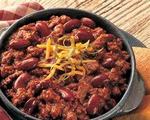 Prep: 1 hr 15 min
Cook Time: 2 hr 25 min
Total: 3 hr 40 min
Serving: 6
Slow cooked, Pinto Bean Chili will become your family's favorite classic dish.
Ingredients
2 cups pinto beans
1 pound ground beef
1 large onion, chopped
2 cups water
4 cups canned tomatoes
2 tablespoons chili powder
1 tablespoon salt
Directions
Prepare beans: Cover beans with water and bring to a boil, simmer for 2 minutes and turn off heat. Let stand 1 hour. Drain beans.
Brown ground beef and onions. Add 2 cups of water to beans. Add beef and onions and remaining ingredients. Cover and simmer slowly, about 2 hours, until beans are tender. Add more water if needed.