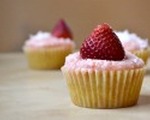 Prep: 20 min
Cook Time: 18 min
Total: 38 min
Serving: 10 People
Love champagne and cupcakes? Pair them in an entirely new way by adding champagne to your cupcake batter! These sweet, bubbly and incredibly moist cupcakes make perfect special occasion desserts as well as the perfect brunch treat! The dryness of the champagne complements the sweetness of the strawberry champagne buttercream perfectly so each bite is sweet, bubbly with a fabulous hint of champange flavor.
Ingredients
1-1/4 cups flour
1/4 teaspoon salt
1/2 teaspoon baking powder
1/2 teaspoon baking soda
1/3 cup coconut milk
1/2 cup rose champagne
1/3 cup corn or vegetable oil
3/4 cup sugar
1 teaspoon vanilla extract
2 tablespoons orange juice
2 tablespoons freshly grated orange peel
FOR THE FROSTING
3/4 cup champagne
1 stick butter, softened
3 cups powdered sugar
3 tablespoons strawberry puree
1/2 teaspoon vanilla
Directions
Preheat oven to 350 degrees F. Line a muffin tin with paper liners.
In a large mixing bowl, whisk flour, salt, baking powder and baking soda; set aside.
In another bowl, cream oil with sugar. Add milk, champagne and vanilla, stir well. Add in orange juice and orange peel.
Pour about 1/4 cup batter into the muffin liners (or until they are 2/3 full). Bake for at least 18 minutes or until golden. Remove and let chill completely before you frost.
While cupcakes cool, prepare frosting by beating butter and sugar together on high with a hand held mixer. Add in champagne, strawberry puree and vanilla and mix until combined. If mixture is too wet, add additional sugar.
Frost cupcakes and garnish with fresh strawberries or sprinkles!