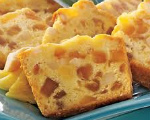 Prep: 15 min
Cook Time: 55 min
Total: 1 hr 10 min
Serving: 1 loaf
Sweet and fun dessert bread!
Ingredients
2 cups all purpose flour
1 1/2 tablespoons double acting baking powder
1/2 teaspoon salt
1/4 teaspoon nutmeg
1/4 cup unsalted butter, softened
3/4 cup plus 1 tablespoon sugar
2 large room temperature eggs
2/3 cup milk
1 teaspoon vanilla
3/4 cup drained and chopped canned pineapple
3/4 cup chopped Macadamia nuts
Directions
Preheat oven to 350 degrees Fahrenheit. Butter and flour a loaf pan.
Sift together the flour, baking powder, salt and nutmeg.
In another bowl, beat the butter and 3/4 cup of sugar until creamed. And the eggs in one at a time.
Alternately, stir the flour mixture and the milk into the creamed mixture. Add the vanilla.
Fold in the pineapple and nuts. Pour into the prepared pan. Sprinkle the top with the tablespoon of sugar.
Bake for 45-55 minutes, until a toothpick inserted in the center comes out clean.
Allow to cool in the pan for 10 minutes, then remove from the pan and cool completely.