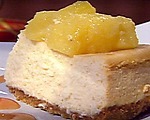 Prep: 15 min
Cook Time: 50 min
Total: 1 hr 5 min
Serving: Serves 8-10 people
Pineapple Cheesecake Squares makes a lovely, fresh springtime treat.
Ingredients
2-1/4 cups fresh pineapple, chopped into very small pieces
2 teaspoons cornstarch
2 cups all-purpose flour
1-1/2 cups brown sugar, packed
1/2 cup margarine
1 cup chopped almonds
1, 8-ounce package cream cheese, softened
1, 14-ounce can sweetened condensed milk
1 egg, beaten
Non-stick cooking spray
Directions
Measure 1/2 cup of the pineapple and set aside. In a small saucepan, add the remaining pineapple with the cornstarch and cook, stirring constantly, until thickened. Set aside.
Spray a 13x9 inch baking pan with non-stick cooking spray. Preheat oven to 350 degrees F. In a medium-sized bowl combine the flour, sugar and margarine and beat until finely crumbled. Stir in the chopped almonds. Press the mixture firmly onto the bottom of the baking pan.
Using a mixer, beat the cheese and milk until smooth. Add the remaining pineapple and the egg. Beat until mixed well. Pour mixture over the crust in the baking pan. Bake for 20-25 minutes, or until the edges are lightly browned.
When cool, cut into squares. Spread the reserved pineapple onto of the squares and serve.