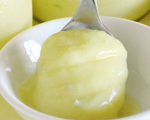 Prep: 10 min
Cook Time: 8 min
Total: 18 min
Serving: 10 Servings
This sweet, creamy and citrusy curd is wonderful topped onto Greek yogurt, meringue or cake.
Ingredients
3/4 cup granulated sugar
1 tablespoon cornstarch
1/4 cup lime juice
1/4 cup pineapple juice concentrate
1/3 cup water
5 egg yolks
1/2 cup cut up butter
Directions
Place the sugar and the cornstarch into a medium-sized saucepan. Stir to combine and then add the lime juice, the pineapple concentrate, and the water. Whisk until thoroughly blended.
Place the pan over medium heat and cook until the mixture has thickened and is bubbling.
In a medium bowl, whisk the yolks together until smooth and then slowly add half of the hot lime mixture to the yolks, whisking vigorously to combine.
Pour the yolk mixture into the pan with remaining lime mixture and cook for an additional 2 minutes.
Remove the pan from the heat and stir in the butter, mixing to combine until butter has completely melted.
Place the curd into he refrigerator until ready to use.