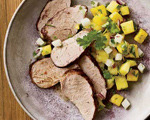 Prep: 20 min
Cook Time: –
Total: 20 min
Serving: 4 Servings
Jicama is a sweet, crisp root vegetable that resembles a turnip. It can be enjoyed raw and is frequently found in salads. Try it in this recipe for pineapple salsa, served as an accompaniment to pork tenderloin.
Ingredients
2 tablespoons finely chopped red onion
1 tablespoon freshly squeezed lime juice
1-1/4 pounds peeled pineapple, cut into 1/2-inch dice 3 cups
2 tablespoons fresh pineapple juice, squeezed from the rind
5 ounces jicama, peeled and cut into 1/4-inch dice 1 cup
3 tablespoons finely chopped cilantro
1 tablespoon light brown sugar
1 jalapeño, stemmed, seeded and finely chopped
1 scallion, thinly sliced
Directions
Place the red onion and lime juice in a bowl, toss to coat and then cover and let stand for 15 minutes.
Put the pineapple, pineapple juice, jicama, cilantro, brown sugar, jalapeño and scallion into the bowl with the marinated onion, and toss well to combine. Serve immediately.