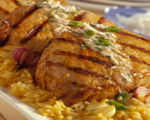 Prep: 10 min
Cook Time: 10 min
Total: 20 min
Serving: 4
Are you yearning for an exotic vacation, sipping Pina Coladas on the beach? This quick dish is the next best thing. These pork chops feature coconut milk for a tropical flavor that you'll love. Serve these Pina Colada pork chops with rice pilaf and steamed peas. This summertime recipe is sponsored by the National Pork Board.
Ingredients
4 boneless pork chops, about 3/4-inch thick
3 limes
1/2 cup canned coconut milk
Salt and ground cayenne pepper
4 minced scallions for garnish
1/2 cup minced cilantro for garnish (optional)
Directions
Marinate the pork in juice of one lime while you prepare a medium-hot fire. Grill chops over heat, about 4-5 minutes per side.
Meanwhile, warm coconut milk in saucepan over low heat, do not boil; season with salt and pinch of cayenne. Add juice of second lime to sauce and cook for 5 minutes.
Transfer chops to platter when done. Spoon sauce over chops. Garnish with scallions and cilantro and sprinkle with juice from third lime. Serve with rice and remaining sauce.