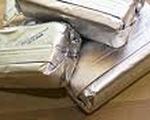 Prep: 15 min
Cook Time: 50 min
Total: 1 hr 5 min
Serving: 15
A slice of Pina Colada Cheesecake will transport you to a tropical paradise. In your dreams!
Ingredients
4, 8 ounce packages of cream cheese, softened
1 1/2 cups sugar
16 ounces sour cream
5 eggs
2 tablespoons cornstarch
2 tablespoons rum
1 tablespoons lemon juice
1 teaspoon vanilla
4 ounces butter, melted
1 cup coconut
1 cup pineapple, crushed
Directions
Cream together sugar and cream cheese. Add sour cream, eggs, cornstarch, rum, vanilla, butter and lemon juice. Fold in coconut and pineapple.
Pour into a greased springform pan. Place springform in a large baking pan and fill with water until 1 inch up the side of pan. Bake at 450 degrees F for 40-50 minutes.