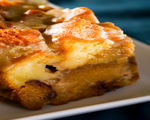 Prep: 30 min
Cook Time: 6 hr
Total: 6 hr 30 min
Serving: 10
Brought to you from the 50+ Friends Club Cookbook.
Ingredients
1 loaf unsliced french bread
1 can frozen Pina Colada drink mix
1 can pineapple juice (6 oz.)
1 can evaporated milk (12 oz.)
½ can Cream of Coconut
3 eggs
1/3 c. Irish Cream
OR
¼ c. light rum
1 c. golden raisins
1 can crushed pineapple (8 oz.)
1 tsp. grated lemon peel
Directions
Peel crust from bread with a sharp knife.
Discard crust or make into breadcrumbs for another recipe.
Cut bread into 1-inch cubes; set aside.
In blender or food processor fitted with metal blade, combine half of the following ingredients: drink mix, pineapple juice, milk, cream of coconut, and banana slices.
Process until pureed; pour puree into a six cup bowl. Puree remaining half of liquid ingredients as well as eggs and liquer, if desired.
Combine both purees.
Combine raisins and crushed pineapple with juice, set aside.
Place about 2/3 of the bread cubes in crock pot; sprinkle ½ tsp. grated lemon peel and 1 cup raisin-pineapple mixture over bread in crock pot.
Top with remaining cubes, then remaining lemon peel and raisin-pineapple mixture.
Pour pureed ingredients in crock pot.
Cover and cook on LOW for 6 hours.
Spoon pudding into 8 or 10 dessert dishes and serve hot.