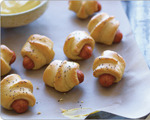 Prep: 40 min
Cook Time: 1 hr 20 min
Total: 2 hr
Serving:
Serve this classic snack to your health conscious guests.
Ingredients
1 cup whole-wheat pastry flour
1 cup all-purpose flour
2 teaspoons baking powder
1⁄2 teaspoon baking soda
1⁄2 teaspoon salt
2 tablespoons cold unsalted butter, cut into 1/2-inch cubes
1⁄4 cup reduced-fat cream cheese
2⁄3 cup lowfat buttermilk
1 (14 ounce) package mini smoked turkey sausages
1 large egg
1 tablespoon water
1 teaspoon poppy seeds
Directions
Preheat oven to 375 degrees F and line two baking sheets with parchment paper.
Add flours, baking powder, baking soda, and salt to a food processor. Pulse for 1 second 5 times. Add butter and pulse for 1 second 8 times. Add cream cheese, turn on processor, and pour in buttermilk through the feed tube. Continue processing for 10 to 20 seconds or until mixed.
Transfer dough to a lightly floured surface and gather into a ball. Divide into two equal pieces and flatten into disks; wrap one disk in plastic and chill. (Both disks may be refrigerated for up to a day; let rest for 20 minutes at room temperature before rolling.) Lightly flour remaining disk and roll to a 1∕4-inch thickness.
Cut dough into 12 rectangles, each about 3-1∕2 by 1-1∕2 inches, then cut each rectangle in half diagonally to form 24 triangles. Place sausages on the short side of each triangle opposite the tip, roll up, and transfer to a baking sheet. Repeat with remaining ingredients (you may have extra dough).
In a small bowl, beat egg and water. Using a pastry brush, lightly coat dough with egg mixture; sprinkle with poppy seeds. Bake for about 12 to 14 minutes, switching positions of baking sheets halfway through. Cool for 5 minutes; serve with mustard, if desired.