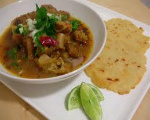 Prep: 20 min
Cook Time: 1 hr 45 min
Total: 2 hr 5 min
Serving: 3-5 servings
Southern pig's feet with squash amd vegetable soup recipe.
Ingredients
1 1/2 pounds pig's feet
2 cups water
2 teaspoons salt
1/4 teaspoon ginger
1/4 teaspoon red pepper
1 1/2 pounds squash, cubed
2 chopped tomatoes
1 cup cooked lima beans
Directions
Combine the pig's feet, salt, ginger and pepper in boiling water. Cover and allow to simmer for 1 1/2 hours.
In a separate pot, boil the squash until tender. Drain and mash.
Mix in the squash, tomatoes and lima beans in the soup mixture. Boil, reduce heat to a simmer, and cook for 15 more minutes.