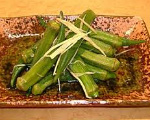 Prep: 30 min
Cook Time: 20 min
Total: 50 min
Serving: 12 pints
Ingredients
6 pounds okra
12 cloves garlic
12 pods hot pepper
12 teaspoon celery seed
12 teaspoons dill seed
1 cup non-iodized salt
2 cups sugar
2 quarts water
2 quarts white vinegar
Directions
Wash the okra and pack into 12 sterilized pint sized jars.
Place equal amounts of the garlic, hot pepper, celery seed and dill seeds in the jars.
Mix together the sugar, salt, water and vinegar and bring to a oil. Pour into the jars. Cap the jars and cover with hot water for 10 minutes.