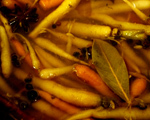 Prep: 40 min
Cook Time: 5 min
Total: 45 min
Serving: Makes 1/2 pound pickled carrots
These pickled baby carrots are perfect for garnishing your favorite cocktail; try adding a few to a Bloody Mary or serve a few on a small dish along with a savory mixed drink.
Ingredients
Half a pound baby carrots, scrubbed or peeled and tops trimmed
1 cup apple cider vinegar
1/2 cup white balsamic vinegar
1 cup water
1/3 cup sugar
1 tablespoon salt
1/2 teaspoon caraway seed
1/2 teaspoon fennel seed
12-15 allspice berries
12-15 peppercorns
6-8 juniper berries
2-4 whole cloves
2 whole star anise
1 bay leaf
pinch ginger
pinch mustard
pinch chile powder
Directions
Blanche the carrots by placing into a pot of boiling pot water for 30 seconds and then immediately removing and transferring to a bowl of ice water. Drain the carrots and set aside.
Put the remaining ingredients into a saucepan and bring to a boil. Remove the pan from the heat, add the carrots and let stand for 30 minutes.
Transfer the carrot mixture to a glass jar with a tightly-fitted cap and store in the refrigerator for up to 1 month.