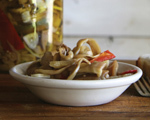 Prep: 24 hr 25 min
Cook Time: 5 min
Total: 24 hr 30 min
Serving: 8 servings
This works well as a simple and deliciously rustic appetizer. Serve with fresh peasant bread, a small bowl of high-quality extra virgin olive oil and a bottle of Merlot.
Ingredients
6 baby or 3 large eggplants, peeled and thinly sliced lengthwise into ribbons
1 cup coarse sea salt
6 hot peppers, finely chopped
1 head garlic, peeled and sliced
2 teaspoons coarse salt
Extra virgin olive oil
2 cups vinegarv
Directions
Put the eggplant in a colander and thickly layer with the 1 cup of salt. Place a plate on top of the eggplant and then weigh the plate down with a can. Let the eggplant drain for 24 hours.
Rinse the eggplant with water and then place on a clean towel to absorb some of the moisture.
In the meantime, place 2 cups of vinegar and 4 cups of water into a large pot and bring to a boil.
Once boiling, add the eggplant and remove the pot from the heat. Let the mixture stand for 15 minutes before straining and squeezing out any excess moisture from the eggplant.
Transfer the eggplant to a bowl with the garlic, peppers and 2 teaspoons of salt. Drizzle in some olive oil and then toss the mixture to coat.