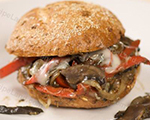 Prep: 15 min
Cook Time: 12 min
Total: 27 min
Serving: 4 Servings
Enjoy a modern twist on a classic sandwich with these Philly Cheese Steak sandwiches, made with Portobello mushrooms instead of beef.
Ingredients
2 teaspoons extra-virgin olive oil
1 medium onion, sliced
4 large portobello mushrooms, stems removed, sliced
1 large red bell pepper, thinly sliced
2 tablespoons minced fresh oregano or 2 teaspoons dried
1/2 teaspoon freshly ground pepper
1 tablespoon all-purpose flour
1/4 cup vegetable broth
1 tablespoon reduced-sodium soy sauce
3 ounces thinly sliced provolone cheese
4 whole-wheat buns, split and toasted
Directions
Place a large frying pan over medium-high heat and add the oil.
Once the oil is hot, add the onions and sauté for 3 minutes, and then stir in the mushrooms, bell pepper, oregano and pepper, and continue to sauté for 7 additional minutes.
Turn the heat down to low and sprinkle the flour over the vegetables. Pour in the broth and bring the mixture to a simmer, stirring frequently. Cook for 1 minute and then remove from heat.
Spoon the mixture onto each toasted bun and top with a slice of cheese. Serve immediately.