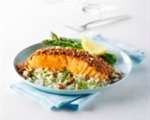 Prep: 10 min
Cook Time: 10 min
Total: 20 min
Serving: 4 servings
Salmon crusted with pecans, rosemary and Kellogg's All-Bran® cereal
Tip: Cook the salmon with the skin on; remove it just before serving to keep the fish from falling apart when cooking.
Variation: For Pecan Bran-Crusted Halibut, replace the salmon with an equal amount of halibut filets.
Ingredients
125 millilitres (1/2 cup) toasted pecans
250 millilitres (1 cup) All-Bran Original® or All-Bran Buds® cereal
15 millilitres (1 tablespoon) fresh rosemary leaves
2 millilitres (1/2 teaspoon) each salt and pepper
4 6-ounce salmon filets
50 millilitres (1/4 cup) olive oil
Directions
In a food processor, combine pecans, cereal and rosemary until mixture resembles coarse crumbs.
Heat oil in a pan over medium heat. Season filets with salt and pepper and brown on all sides. Transfer to a shallow baking dish, and top with pecan mixture.
Bake at 200 degrees C. (400 degrees F.) for six to eight minutes or until fish is cooked through and top is golden. Serve immediately.