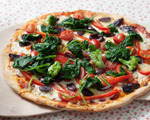 Prep: 15 min
Cook Time: 10 min
Total: 25 min
Serving: 4 Servings
Personal pizzas are always a favorite as each person can enjoy their own unique pizza made with their choice of toppings.
Ingredients
1 pound pizza dough, thawed
1 (8 oz can) tomato sauce
8 ounces shredded mozzarella cheese
Toppings: frozen broccoli florets, thawed; sliced olives, fresh pepper slices, frozen chopped spinach, thawed; thinly sliced pepperoni; grape tomatoes, halved
Olive oil to grease
Directions
Preheat your oven to 450 degrees and then brush a baking sheet with olive oil.
Cut the dough into 4 even pieces, and then roll each piece into a 6-inch round. Place the dough onto the prepared baking sheet, spread with tomato sauce and then top with cheese.
Top each pizza with the toppings of your choice and then place in the oven for 10 minutes.