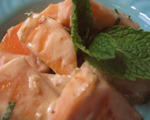 Prep: 10 min
Cook Time: 5 min
Total: 15 min
Serving: 4 Servings
Persimmons are a kind of red or orange fruit that resemble large tomatoes. Its sweet flesh makes it a delicious addition to salads.
Ingredients
2 tablespoons minced shallot
1 tablespoon minced fresh ginger
1 tablespoon extra virgin olive oil
3 medium-large persimmon, firm and slightly under-ripe
5 tablespoons plain full-fat Greek yogurt
2 teaspoons soy sauce
Freshly ground black pepper
1-1/2 tablespoons chopped fresh mint
Directions
Place the olive oil in a sauté pan over medium heat. Add the shallots and the ginger and sauté for 5 minutes. Set aside.
In the meantime, trim the persimmon, peel and then cut into thin pieces. Place the persimmon into a bowl along with the chopped mint.
Top the persimmon mixture with the sautéed shallot mixture, the yogurt, soy sauce and a few grinds of fresh pepper. Toss well to combine and then serve immediately.