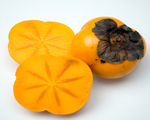 Prep: 15 min
Cook Time: 1 hr
Total: 1 hr 15 min
Serving: 16
Another great way to use Persimmons.
Ingredients
1 cup persimmon pulp
1 cup brown sugar
1 egg
2 tablespoon oil
2 1/4 cup flour
1 teaspoon baking powder
1 teaspoon soda
1 teaspoon salt
1/2 cup raisins or dates
1 teaspoon vanilla
1/3 cup candied orange peel
1 cup chopped nuts
Directions
Combine persimmon pulp, brown sugar, egg and oil in a large bowl and blend well.
Dust raisins or dates with a little flour.
Sift flour, baking powder, soda and salt together in medium bowl.
Add this to the first mixture and stir.
Add raisins, vanilla, orange peel and nuts, stir well.
Bake in a greased loaf pan at 325 degrees F. for 1 hour.