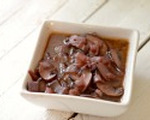 Prep: 10 min
Cook Time: 20 min
Total: 30 min
Serving: Yields about 1/3 cup sauce
Tired of your steaks not having any flavor? Instead of soaking them for hours (who has the time!) serve your favorite filet with a side of this delicious mushroom and red wine sauce! Made from your favorite dry vino and some simple spice, this sauce is as easy as it is delicious! Just be careful, this sauce is so good you'll want to eat it with a fork!
Ingredients
8 ounces sliced mushrooms
1 cup dry red wine (like Merlot)
1-1/2 tablespoons butter
1 tablespoon steak seasoning
Liberal dashes of salt and pepper
1 small onion, finely chopped
Directions
Heat the butter in a medium sauce pan over medium-high heat. Add the onions and cook them until they are fragrant, about 2 minutes. Add the mushrooms and cook another 2 - 3 minutes, or until they are soft.
Add the wine and steak seasoning. Reduce the heat to low and let it simmer until the sauce has reduced by half. Add the salt and pepper to taste. Once it has reduced, remove it from the heat and serve it over your steak, lamb, veal or chicken!