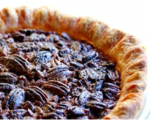 Prep: –
Cook Time: –
Total: –
Serving: 8
This pecan pie recipe is perfect for the holidays. This dessert will hit the spot after a delicious traditional holiday meal!
Ingredients
1 store-bought pie shell, uncooked
2 cups pecan pieces
4 eggs, beaten
1/2 cup sugar
1/2 cup light brown sugar
1/4 cup Steen's 100% Pure Cane Syrup
1/4 cup light corn syrup
1/2 teaspoon vanilla extract
Dash of salt
1/2 stick butter, softened
1 tablespoon flour
2 scoops Vanilla ice cream
1 cup chocolate sauce in squeeze bottle for drizzling
Whipped cream
Fresh mint sprigs (if desired!)
Powdered sugar
Directions
Preheat the oven to 375 degrees F.
Spread the pecans evenly on the bottom of the pie shell. In a mixing bowl, whisk the eggs, sugar, brown sugar, cane syrup, vanilla, salt, butter, and flour, together.
Mix well and pour the mixture slowly over the pecans.
Bake for about 1 hour, or until the filling sets.
Remove the pie from the oven and allow to cool for 10 minutes before slicing.
Place a piece of the pie in the center of the plate.
Garnish with ice cream, chocolate sauce, whipped cream, mint sprigs, and a light dusting of powdered sugar.