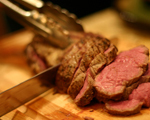 Prep: 15 min
Cook Time: 1 hr 45 min
Total: 2 hr
Serving: 1 beef tenderloin roast
To make the perfect beef tenderloin, make sure that you know the exact weight of the beef so you can calculate the exact cooking time. Additionally, do not open the oven door while tenderloin is cooking or resting as this will affect the meat's overall doneness.
Ingredients
1 beef tenderloin
2 cups coarsely ground fresh black pepper
4 tablespoons oil
Directions
Preheat the oven to 500 degrees.
Set the beef tenderloin out so it reaches room temperature and pat dry.
Place a piece of wax or parchment paper on a clean service and spread out the pepper evenly to cover. Rub the oil all over the tenderloin and then roll in the pepper to coat, not forgetting the sides of the roast as well.
Place the meat in the oven and cook for 3 minutes per pound of beef.
Once the cooking time has finished, leave the tenderloin in the oven to rest for an extra 1 hour and 45 minutes. Do not open the oven door. The tenderloin will be cooked to medium-rare doneness. Remove from oven, set on a carving board, slice and serve.