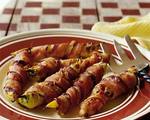 Prep: 30 min
Cook Time: –
Total: 30 min
Serving:
These stuffed banana peppers are almost a meal in themselves!
Ingredients
large banana peppers
boiled or baked meat (chicken, steak, etc.)
grated cheese
bacon strips
cup of flour
1 egg
Salt and pepper
Oil
Directions
Slice peppers lengthwise on one side (do not cut in two). Clean/seed. Stuff with boiled or baked chicken (or sliced steak, roast), sprinkle with grated cheese to taste, salt and pepper.
Close pepper and wrap with bacon strip, fasten with toothpick. Dip in egg and batter with flour, salt and pepper. Place peppers in hot olive oil (or your favorite oil) and fry until golden brown. Place on paper towels to drain any extra oil.
Meat can be prepared at anytime, good for leftovers too. Serve either warm or cool.