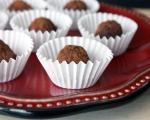 Prep: 20 min
Cook Time: 5 min
Total: 25 min
Serving: Makes 48 truffles
When you garnish Peppermint Chocolate Truffles with candy cane pieces, you turn tasty chocolate into a lovely holiday treat for your next party.
Ingredients
1, 12-ounce package semi-sweet chocolate chips
6 ounces bittersweet chocolate chips
1 cup heavy whipping cream
6 tablespoons unsalted butter, softened
1 tablespoon peppermint extract
1/4 tablespoon vanilla extract
1/4 cup sugar
1/4 cup cocoa powder
Directions
In a saucepan, heat heavy whipping cream over medium-high heat until almost boiling. Place semi-sweet and bittersweet chips in a medium bowl; pour heated whipping cream over chocolate and stir until chocolate is melted. In small bowl, beat softened butter, sugar and extracts, and add to melted chocolate, stirring until blended.
Chill chocolate mixture in refrigerator for 45 minutes. Remove from refrigerator and roll into small balls, using a melon baller or a teaspoon. Roll each ball in cocoa powder and place on waxed or parchment paper to prevent sticking.