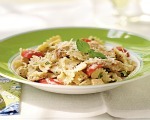 Prep: 15 min
Cook Time: 11 min
Total: 26 min
Serving: Serves 6 people
Not your ordinary pasta salad, Peppered Chicken Pasta Salad is a filling, one-dish meal perfect for dinner.
Ingredients
8 ounces uncooked bow tie pasta
2 cups of cut green beans (about 1/2 pound and cut into 1-inch pieces)
2 cups of skinless, boneless rotisserie chicken breast meat (chopped)
2/3 cup of cut celery (cut into about 1/8-inch pieces)
1 red bell pepper, chopped
1/2 small red onion, thinly sliced
2 tablespoons of water
3 tablespoons of fat-free mayonnaise
4 teaspoons of fresh lemon juice
4 teaspoons of prepared pesto
1/2 teaspoon of freshly ground black pepper
1/2 teaspoon of salt
Directions
For the salad: Cook the pasta in boiling water until it is al dente. Add the green beans to the pasta in the final 5 minutes of cooking. Drain and rinse the pasta mixture under cold water.
In a large bowl, combine the pasta mixture, chicken, celery, bell pepper and onion and toss to combine.
For the dressing: Whisk together the 2 tablespoons of water and the remaining ingredients. Drizzle the dressing over the pasta mixture and toss gently to coat.