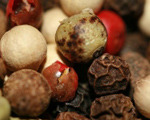 Prep: 5 min
Cook Time: –
Total: 5 min
Serving: Marinade for 2 steaks
Black, red and white peppercorns are all berries that come from an Asian tropical vine. Their difference in color depends on when the peppercorn is picked and whether or not their skin has been removed.
Ingredients
1 tablespoon paprika
1 teaspoon garlic powder
1 teaspoon cayenne pepper
1/2 teaspoon onion powder
1/2 teaspoon equal parts freshly ground black, white, green and pink peppercorns
1/2 teaspoon dried oregano
1/2 teaspoon salt
2 teaspoon grated lemon zest
3 tablespoon olive oil
Directions
Place the paprika, garlic powder, cayenne powder, onion powder, peppercorns, oregano and salt into a spice grinder or a blender, and process until it reaches a textured powder consistency. Transfer the mixture to a bowl, add the lemon zest and the oil and then mix to combine.
Rub the steaks with the mixture and then set aside to sit at room temperature for 35 minutes prior to cooking as desired.