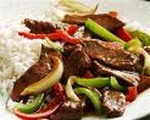 Prep: 25 min
Cook Time: 2 hr
Total: 2 hr 25 min
Serving: 6
Pepper Flank Steak is flavored with ginger and garlic and bake in an oven cooking bag. For easy slicing, partly freeze flank steak.
Ingredients
1 tablespoon flour
1 flank steak
2 green peppers, cut into strips
1 beef bouillon cube, crushed
1 teaspoon salt
1/2 teaspoon sugar
1 clove garlic, crushed
1/2 teaspoon ginger
1, 16 ounce can tomatoes
Directions
Partially freeze steak and cut diagonally into 1/4 inch strips. Put flour and green peppers in a 10 by 16 inch oven cooking bag. Add steak strips and shake to coat well with flour.
Mix remaining ingredients; pour over steak. Close bag with twist tie. Make 6 slits in top of bag. Bake at 375 degrees 1 1/2 to 2 hours.