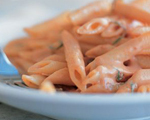 Prep: 15 min
Cook Time: 27 min
Total: 42 min
Serving: 6 Servings
This is an elegant Italian pasta dish with a modern twist. Serve as the pasta course for a formal dinner.
Ingredients
3 tablespoons butter or olive oil
1 onion, finely chopped
3 cloves garlic, finely minced
1, 28-ounce can whole plum tomatoes, drained and roughly chopped
1/4 cup vodka
1/4 teaspoon red pepper flakes
1/2 cup heavy cream
14 fresh basil leaves, chopped
salt and freshly ground black pepper to taste
1 pound penne
Directions
In a large sauté pan melt the butter over medium heat and sauté the onion for 6 minutes until soft.
Add the garlic and sauté until fragrant, about 1 minute, and then mix in the tomatoes, vodka and red pepper flakes.
Stir the mixture to combine and bring to a simmer. Cook for 10 minutes. Pour the cream into the mixture and continue to cook until it heats through. Remove from heat and sprinkle in salt and pepper, and the basil leaves.
Meanwhile, cook the penne according to package directions and drain. Return to pot and pour in the sauce. Toss well to coat and serve immediately.