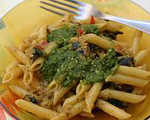 Prep: 15 min
Cook Time: 10 min
Total: 25 min
Serving: 4 Servings
Trapanese Pesto is just like classic pesto but with the addition of tomatoes. Use fresh, sweet and juicy tomatoes for this delicious Italian recipe.
Ingredients
3/4 pound penne rigate pasta
4 medium Roma tomatoes, ripe and sweet
8 large fresh basil leaves
2 tablespoons unsalted roasted almonds
1-1/2 large garlic cloves, crushed and peeled\1/4 teaspoon red pepper flakes
1/4 teaspoon sea salt
1/4 cup olive oil
1/4 cup Parmigiano-Reggiano cheese, freshly grated
Directions
Cook the pasta according to package directions until al dente, drain and place pasta into a serving bowl.
Meanwhile, wash off the tomatoes and basil and dry with paper towels.
Cut the tomatoes into chunks and place in a food processor along with the basil, almonds, garlic, red pepper and salt. Process the mixture until smooth, scraping down the sides with a rubber spatula.
With the food processor on, pour the olive oil down the flute in a steady stream.
Transfer the pesto to the bowl with the warm pasta and toss to coat pasta. Sprinkle with the Parmigiano-Reggiano and toss again to mix ingredients. Serve immediately.