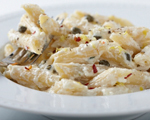 Prep: 15 min
Cook Time: 10 min
Total: 25 min
Serving: 4 Servings
A creamy dish of pasta that is anything but bland. The mix of capers, lemon and chili add intense flavor into each bite.
Ingredients
1 pound penne
12 ounces fresh whole-milk ricotta cheese (1-1/2 cups)
3/4 cup plus 2 tablespoons low-fat milk
1 garlic clove, gently smashed and peeled
1/4 cup plus 1 tablespoon capers (preferably salt-packed), rinsed, soaked in cold water for 10 minutes, then rinsed again
1 tablespoon fresh thyme leaves
1/2 teaspoon red pepper flakes
1/2 teaspoon red pepper flakes
2 tablespoons extra-virgin olive oil
1/2 cup freshly grated Parmesan cheese plus more for serving
Zest of 1 lemon
freshly grated black pepper
Directions
Cook pasta al dente according to package directions and drain, reserving 1 cup of the cooking water.
Meanwhile, put the ricotta, milk and garlic into a sauce pan and place over medium heat.
Once warmed through, remove and discard the garlic and then stir in the capers thyme and red pepper flakes.
After draining, return the cooked pasta to the pot and stir in the oil, ricotta mixture, Parmesan, pepper and lemon zest. Stir to combine, adding some of the reserved pasta liquid if sauce is too dry.
Serve with additional Parmesan cheese.