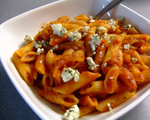 Prep: 20 min
Cook Time: 25 min
Total: 45 min
Serving: Serves 2
Fennel has a unique anise flavor that pairs beautifully with tomato and crumbled blue cheese. Savor this dish with an American Sauvignon Blanc and enjoy a perfect meal for two.
Ingredients
2 cups penne
1 fennel bulb
2 tablespoons olive oil
1 shallot, finely chopped
1 ¼ cups tomato puree
Pinch of sugar
1 tsp chopped fresh oregano
Sea salt and freshly ground black pepper
4 ounces blue cheese
Directions
Cook pasta al dente according to directions on package; set aside and keep warm.
Cut the fennel bulb in half and remove the hard core and root. Thinly slice the fennel and cut into strips.
In a small sauté pan, heat the olive oil and sauté the fennel and shallot over high heat for 3 minutes.
Mix in the tomato puree, sugar and oregano. Reduce heat to medium-low, cover the pan and gently simmer for 10 minutes. Season with salt and pepper.
Pour the sauce over the pasta and toss to coat. Sprinkle with blue cheese and serve immediately.